German Design Award 2020: Three ifm products awarded for the second time
German Design Award 2020: Three ifm products awarded for the second time
For the second time in a row, three ifm products were awarded the German Design Award: The MQ2000 magnetic sensor, the EVF570 wirable socket and the O2I500 multicode reader convinced the jury.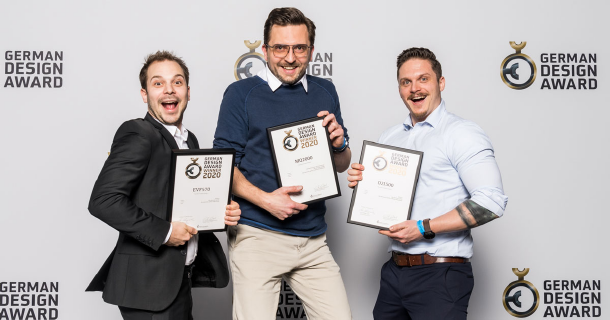 For the German Design Award, an international jury selects innovative products and projects that are ground-breaking in the German and international design landscape. The German Design Award discovers and presents unique design trends and aims at pushing the design-oriented economy ahead by means of competition.
The first of the ifm products to receive an award was the MQ2000 magnetic sensor. The device ensures reliable position monitoring in the metal industry. It convinced the jury with its extreme small and flat shape, which makes it perfectly suitable for applications where space is at a premium. The integrated operating hours and switching cycles counter and soling detection inform the user about the condition of sensor and machine and facilitate maintenance. "Applications in the metal industry impose special requirements the sensor perfectly meets.The technology is incorporated in a robust and impact resistant housing, which is also very small and compact," explained the jury.
The second product is the EVF570 wirable socket, which allows the user to do the cabling in his plant himself and thus reduce costs and resources considerably. The reason for the jury's decision: "With the cleverly designed high-tech sockets, the user can do the cabling in his plant himself. The sockets, which are made from high-quality materials, protect the cables even in harsh industrial environments. Besides, they are easy to use."
The third winner, the O2I500 multicode reader, convinced with its reliable reading results even in the extremely difficult conditions of factory automation. It reads up to four different codes in milliseconds to transport workpieces to the right machine at the right time. It combines robustness, a compelling design and intuitive handling thanks to the one-button teach and the configuration app. The O2I500 sets new standards for setting up automatic production processes. What convinced the jury? "The multicode reader convinces with its compelling and precise design and interesting details such as the fine, dynamic joints and the prominent red line. A modern, compact design that perfectly combines functionality and high tech."