ecomatPanel: robust, multifunctional input module
ecomatPanel: robust, multifunctional input module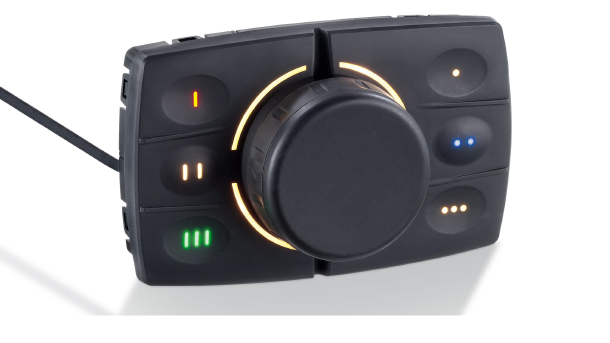 Rotary button with integrated 4-way button and push function
6 RGB backlit function keys and one segmented LED ring
All lighting elements can be controlled individually in any colour
Communication via CAN interface
For 12 and 24 V on-board power supplies
Safe operation in rough environments
The ecomatPanel has been designed for use in the harsh environment in driver's cabins. The rotary button and the function keys are large enough to ensure easy handling even when wearing gloves. The rotary button is also equipped with a 4-way button (up/down/left/right). This makes it possible to quickly navigate through setting menus. Another switching function can be triggered by pushing the rotary button (push function).
Colour feedback
The illuminated ring around the rotary button, consisting of four segments, as well as the illuminated keys provide a clear overview of the set functions. All LED lighting elements can be set separately and assigned individual colours.
Easy integration into panels
CAN interface
Communication is effected via the integrated CAN interface. Via this interface, the individual LED segments are controlled and the status of the keys and the operating head is queried.
Plug & play with ifm displays
the ecomatpanel has been designed for direct communication with the ifm dialogue modules for mobile applications (ecomatdisplays). once the dialogue module has been connected via can bus, the keys and leds of the ecomatpanel can be evaluated directly in the application program and be used for the operating functions of the display. the innovation: no programming of the communication interface is required.
Designed for robust applications
The ecomatPanel can be used in 12 V and 24 V on-board networks. The high protection rating IP 65 and the closed surface provide protection even under adverse environmental conditions. Even extreme temperatures or permanent shock and vibration do not affect the functions of the ecomatPanel.