ifm wins Axia Best Managed Companies Award 2020
ifm wins Axia Best Managed Companies Award 2020
ifm is winner of the Axia Best Managed Companies Award 2020, a prize and quality mark awarded by Deloitte, Wirtschaftswoche, Credit Suisse and BDI and recognizing companies that stand out for their excellent management.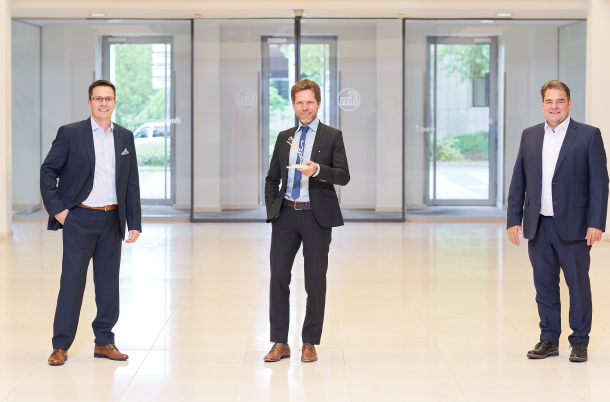 There are four core areas of corporate governance that are crucial to receiving the Axia Best Managed Companies Award: strategy, productivity and innovation, culture and commitment, as well as finance and governance. Only those companies that can convince in all four areas receive the award. The ifm group has already won the Axia Award in 2010. Now a jury of renowned representatives from business, science and media has announced ifm as winner again.
Due to containment measures to prevent the coronavirus spreading, the Axia Best Managed Companies awards ceremony planned in Düsseldorf for 14th May 2020 had to be cancelled. On these grounds, the award was now presented at ifm's corporate headquarters in Essen (Glückaufhaus) on 13th May 2020.
Michael Marhofer, Chairman and co-CEO of the ifm group, is pleased with the award and states:
"According to our understanding, it is our corporate mandate to make life a little bit easier for our customers, just as it is our daily motivation to live up to our social and entrepreneurial responsibility. This is conceptualised in our corporate philosophy representing a way of thinking that is supported and lived in the long run, thus forming our group's soul. As the AXIA award considers all these aspects of corporate activity, we are proud of this feedback."
Martin Buck, Chairman and co-CEO of the ifm group, adds:
"We intend to provide our employees with a basic orientation through this very corporate philosophy and to present values that are the long-term basis for our corporate activity. For all the continuity of these values, however, we strive to foster a culture of innovation and constant reinvention while continuously adapting our organisation and processes to the growing company so that they serve the people without being a bureaucratic encumbrance. At the same time, we are firmly convinced that the employees represent the biggest asset of any company. The potential of this asset determines the ifm group's power and thus determines our success or failure."
About the award
The Axia Best Managed Companies programme is a competition organised by Deloitte, WirtschaftsWoche, Credit Suisse and BDI in Germany and a quality mark for successful medium-sized companies. Its vision is to create a national and global ecosystem of medium-sized companies that stand out for their excellent management.
Since Best Managed Companies was launched by Deloitte in Canada in the 1990s, internationality has been an essential feature of the programme. Meanwhile, it has been successfully introduced in more than 20 countries.
About the ifm group of companies
Measuring, controlling and evaluating - When it comes to pioneering automation and digitalisation technology, the ifm group is the ideal partner. Since its foundation in 1969 ifm has developed, produced and sold sensors, controllers, software and systems for industrial automation worldwide. As one of the pioneers of Industry 4.0, ifm develops and implements consistent solutions to digitise the entire value chain "from sensor to ERP". Today, the second-generation family-run ifm group has more than 7,300 employees in 95 countries and is one of the worldwide market leaders. The group combines the internationality and innovative strength of a growing group of companies with the flexibility and close customer contact of a medium-sized company.