Configure and monitor IO-Link devices via Bluetooth adapter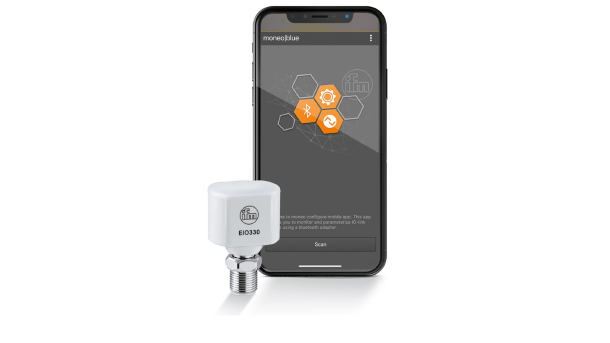 New IO-Link Bluetooth adapter allows access to sensors via smartphone*
Easy parameter setting and reading of process values and events of all IO-Link devices connected to the master
ifm moneo blue available free of charge for iOS and Android
Convenient parameter setting of many sensors thanks to graphic representation
With IP69K rating the adapter is also suitable for use in hygienic areas
Check and configure IO-Link sensors on the smartphone
With the Bluetooth adapter for IO-Link masters ifm offers a convenient way to read the data of the devices connected to the master and of the master itself and to adjust parameters. The process flow can be maintained by reacting to the situation without first leaving the plant and visiting the IT department. The password protection prevents unwanted tampering with the existing parameterisation.
Free app provides graphic representation
The highlight of the intuitive app, which is available free of charge for Apple and Android smartphones, is that it features graphic representation, which makes parameter setting of the TCC temperature sensor or the MVQ101 valve sensor, for example, even easier.
Software and hardware requirements
The app requires iOS from version 10.3 or Android from version 5.0. The smartphone must support Bluetooth 4.1. Display on tablets is already possible, a full tablet version will be made available with the coming updates.
The Bluetooth adapter can be used with all ifm IO-Link masters from firmware version 2.1. Both Bluetooth Classic and Bluetooth Low Energy (BTLE) are supported. The range is approx. 10 to 30 metres, depending on the respective installation situation.
Transmission of recorded process data via e-mail
The Bluetooth adapter can record process data. These recordings can then be sent as a zip file for further evaluation on the computer directly from moneo blue.
* The list of countries which can use this plug can be found in the Bluetooth plug's data sheet.
Use case in food manufacturing facilities
The customer would like to able to adjust the valves to adapt the product flow. The Bluetooth adapter is a simple solution. It is connected to the master and together with the free mone|blue app, which is downloadable on a smartphone or tablet, the valve positions can be adjusted manually by following the appropriate sensor values. A recording mode allows the process data to be recorded for validation purposes and is available during start-up phases