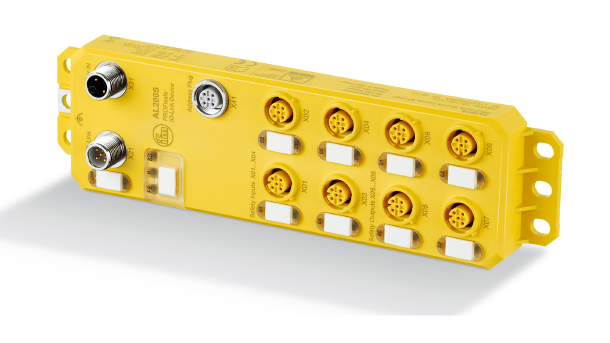 Safety module for IO-Link
8 safe OSSD inputs
4 powerful outputs with separate 24 V supply
PROFIsafe telegram tunnelled via IO-Link
Safety to SIL 3 and PLe
IO-Link for safety-related applications
Thanks to the transmission protocol "PROFIsafe", standard safety sensors and actuators can be operated via IO-Link. All you need is the PROFIsafe IO-Link module. It features 8 safe digital inputs (OSSD) and 4 safe outputs. The innovation: On the hardware side, the module is simply connected to a normal IO-Link master via IO-Link. The special PROFIsafe transmission telegram ensures a "tunneled" connection with the safety controller within the normal IO-Link communication. It fulfils the safety levels SIL 3 to IEC 61508 / EN 61508 and PLe to EN ISO 13849-1.
Powerful safe outputs
A separate 24 V supply via L-coded M12 sockets enables connection of powerful actuators. The outputs can be configured as PNP or NPN.
On the hardware side, the PROFIsafe IO-Link module is connected to an A or B port of an AL1400 or AL1402 IO-Link master. The safety module is powered via a separate L-coded M12 cable. The "PROFIsafe" transmission protocol ensures tunnelled safety communication with the safety controller.
Easy replacement of units through address plug
The PROFIsafe address plug E7700S enables simple and fast replacement of the AL200S without a computer and without additional software.This memory plug is simply plugged into the new AL200S and the stored PROFIsafe address is automatically transferred to the new PROFIsafe IO-Link module.