Maximum flexibility: IO-Link multiport modules
Configurable digital and analogue input / output functions via IO-Link communication in just one module
8 independently configurable I/O ports
Electrical separation between auxiliary voltage and IO-Link
Digital input filters, powerful outputs (2 A each)
Parameter setting and diagnostics via IO-Link
Any combinations possible in just one module
These IO-Link modules allow connection of conventional digital and analogue sensors as well as digital actuators to IO-Link. To do so, the modules feature 8 flexible ports that can be configured independently: as digital inputs and outputs, as analogue input (4...20 mA or 0...10 V). This unique capability to freely configure in any combination of analogue and digital ports in one module saves cost. You only need one free IO-Link port on the controller.
Heavy-duty outputs for actuators
The powerful switching outputs of the PerformanceLine versions can switch currents up to 2 A (16 A per module). The electrical separation between supply voltage and IO-Link communication provides maximum protection.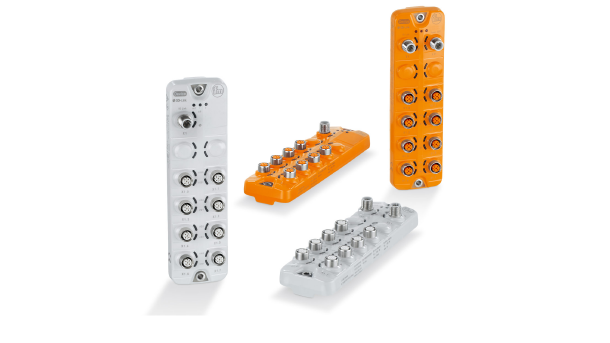 Advantages and customer benefits
Cyclical or acyclical port configuration
A key feature of the multiport modules from ifm is the flexibility of port configuration. The user can define a cyclical or an acyclical version via the selection of the respective device ID via IO-Link. This allows a cyclical or an acyclical configuration of the function of each port on the module (AI, DI, DO).
External voltage supply L-coded (PerformanceLine):
Output current 16 A per module, 2 A per connection switchable
Industrial version with special housing material resistant to oils and coolants
L-coded supply cable necessary for supply of the higher current
Electrical separation between the supply voltage and the IO-Link interface guarantees a reliable data communication (IO-Link compliant)
Actuators can be switched off separately from sensors
External voltage supply A-coded (StandardLine):
Output current limited to 1.8 A per 4 connections
Available as a version for industrial applications or as a special version for the food industry
Auxiliary voltage supply via a standard cable
Electrical separation between the supply voltage and the IO-Link interface guarantees a reliable data communication (IO-Link compliant)
Dual supply enables actuators to be switched off separately from sensors
Supply from A-port master
Output current 1 A (total) for 8 connections switchable
Voltage supply from the master's sensor supply, no additional external actuator supply
Available as a version for industrial applications or as a special version for the food industry
No additional supply cable necessary