I/O module for 3D camera system O3M for mobile use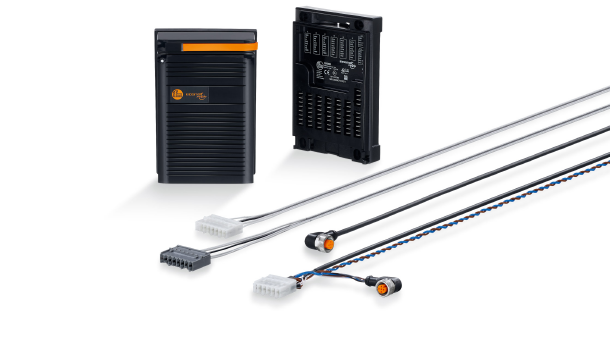 Extends the camera system adding binary and analogue inputs and outputs
Easy retrofitting on mobile machines without a bus system
User-friendly parameter setting with the ifm Vision Assistant
Including CAN jumper cables and all required adapter cables
Easy extension for additional inputs and outputs
The O3M 3D camera system is provided by default with a CAN connection for integration in mobile machines, on which this bus is often installed. On machines without CAN bus, the new I/O module can be connected directly to the 3D camera by means of the supplied connection cable. The module extends the system adding binary and analogue inputs and outputs, which can then be connected to a controller without a bus system.
Intuitive parameter setting and programming
The I/O module is pre-programmed and ready for use. Easy parameter setting or complex logic programming allow the module to be adapted to the individual application by means of a user-friendly graphic function block diagram in the "Vision Assistant" software.
Features and benefits
Inputs and outputs for O3M 3D camera system
The I/O module extends the 3D system O3M, which by default only features one CAN connection and one Ethernet connection, via additional binary and analogue inputs and outputs. In total, the I/O module provides 2 analogue inputs (0...32000 mV), 10 binary inputs, 1 PWM output and 11 binary outputs, which are all pre-programmed. A CAN bus allows for connection of the I/O module to the 3D system. The pre-assembled jumper cable as well as the connection cables for the inputs and outputs are supplied with the module.
Parameter setting and logic creation
Parameter setting of the 3D system and logic creation is done via the ifm Vision Assistant. The I/O module does not require any programming. The logic is represented graphically in a kind of function block diagram in the Vision Assistant. It can consist of simple AND/OR functions but it can also involve arithmetic operations with memory options.
Easy retrofitting
The I/O module is perfectly suited for retrofitting 3D systems on existing mobile machines or industrial plants, which do not feature a CAN bus. It just requires connecting the module's inputs and outputs to the existing system in order to allow, for example, for control of acoustic or optic signal generators and actuators. In industrial plants, connection to the existing PLC is achieved via the I/O module's binary outputs. This considerably simplifies the integration of the 3D camera system.