IO-Link device: for extension of master modules by digital inputs and outputs
IO-Link device: for extension of master modules by digital inputs and outputs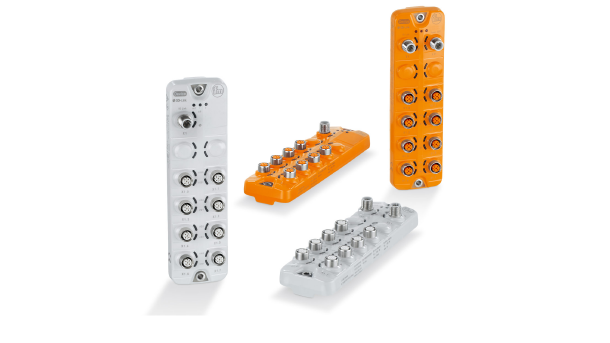 The new IO-Link input/output modules provide an easy and cost-effective way to add powerful digital inputs and outputs to ifm's IO-Link master modules for field applications.
Decentralised switching of digital outputs via IO-Link and collection of binary signals
Adds up to 20 digital inputs and outputs to IO-Link master modules
For use in industrial applications plus new versions for hygienic areas
Output current up to 1.8 A per supply channel
Pre-processing of the input signals by digital input filters
Decentralised switching of inputs and outputs via IO-Link
Typical tasks are the decentralised switching of loads and actuators or the collection and processing of digital signals. To do so, six or ten M12 ports with two digital inputs or outputs each are available.
Applications
The modules are available in two designs: The orange field module from the coolant series is resistant to oils and coolants and suited for general industrial applications. The grey module is ideally suited for hygienic and food applications due to the material used for the housing. It has the high protection rating IP 68 / IP 69K.
The input modules
Up to 20 conventional sensors can be connected to these modules. IO-Link transfers the signals to any IO-Link master or PLC via one unscreened M12 connection cable. A special feature of the modules is the pre-processing of the input signals via different filters before passing them on via IO-Link. The following filters are available: debouncing (suppress noise signals), stretching (longer signals), inverting This allows reliable detection of signals with a minimum length of 1.5 ms.
The decentralised positioning of the module reduces wiring costs and makes complex cable trees obsolete. As opposed to bus systems IO-Link does not require any configuration or addressing. This simplifies installation. Pins 2 and 4 of each M12 socket are configured as binary inputs. That means that dual sensors, normally closed or normally open, can be connected without any problem. The inputs have full overload and short-circuit protection.
The output modules
The outputs are supplied from two independent, electrically isolated voltage sources. The left-hand M12 sockets are supplied via pins 1 and 3 of the supply connector and the right-hand M12 sockets via pins 2 and 4. Both voltage supplies can be loaded with max. 1.8 A. The output current is distributed to the outputs according to the connected loads and is limited to 1.8 A total current per channel.