ifm spotted: O3M proves useful for hydroelectric power plant
ifm spotted: O3M proves useful for hydroelectric power plant
3D cameras of the O3M series which support the hydroelectric power plant operation in various places were discovered at the Lake Baldeney.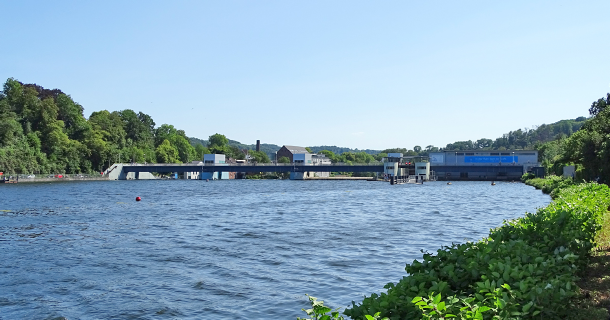 The Baldeney hydroelectric power plants is operated by RWE Innogy and was modernised for half a million euros in 2016/2017. In view of reducing personnel costs, many parts of the plant were automated in the course of this modernisation so that permanent staff presence on site could be reduced. The automation measure also included a sort of rail excavator whose task is to ensure that the so-called screen at the power plant's inlet is not congested.
The screen keeps e.g. large tree branches and trunks, but also floating waste away from the turbines. Otherwise, the latter could be blocked or even damaged.
Thanks to its special gripper attachment, the rail excavator can take up the floating refuse and pieces of wood and load them in a container.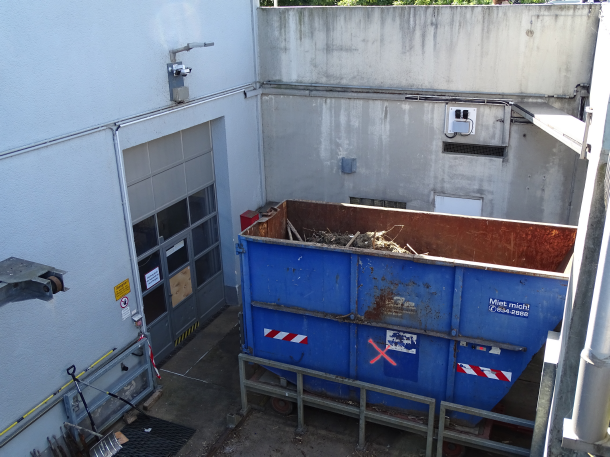 In the past, an RWE employee would have sat in this rail vehicle and carried out this work manually at regular intervals. With the active support of the O3M 3D camera today, the excavator operates fully automated and the machine operator has been replaced with new "eyes" installed on the left and right side of the cab: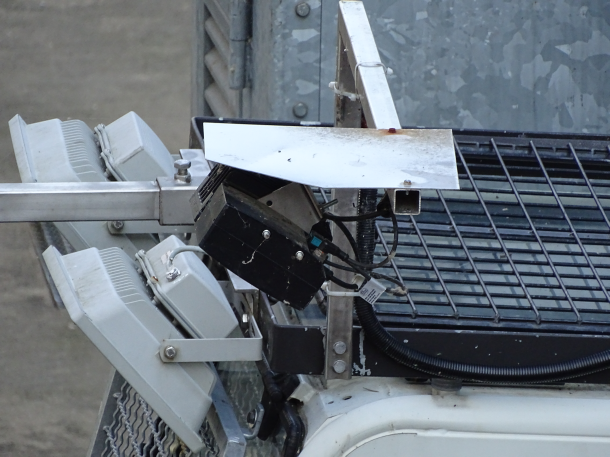 In monitoring the gripping process, the O3M pays particular attention to excess protrusion of material left and right of the gripper attachment. If e.g. a large branch is not gripped properly and protrudes on one side, it must be released. Then the excavator travels sideways and grips it again until the position in the gripper attachment is right. The branches could block the complete plant if the O3M did not monitor this process. Then staff would have to drive to the site and put the plant back into operation.
There is also another O3M at the side of the waste container to monitor overflow.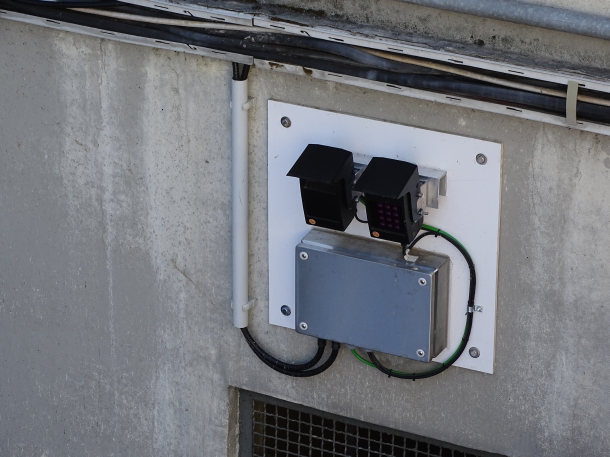 It checks whether the container is already filled to overflowing and needs to be emptied or whether a large branch protrudes over the edge of the container, which can happen when the excavator deposits its load. In this case, a message is sent to the control room and the container is soon emptied.
Did you know?
The power plant was built until 1933 and integrated into the weir of Lake Baldeney. It is the largest power plant of its kind upon the Ruhr river, generating just under 30 gigawatt-hours and thus enough electricity for 9,000 households in Essen.