Smart vibration monitoring without cabling
Smart vibration monitoring without cabling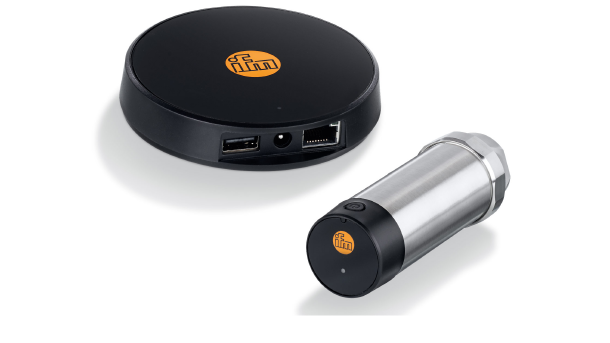 Versatile use thanks to battery operation and radio transmission
For overall vibration and temperature monitoring in places that are difficult to access
Radio technology with intelligent mesh topology for efficient data transmission
Easy implementation from sensor to data visualisation
Vibration monitoring for simple machines
The battery-operated VW vibration sensor in combination with the ZB0929 Gateway and ifm moneo or LR SmartObserver enables overall monitoring of the machine condition according to ISO 10816. Together with the integrated temperature monitoring it is possible to detect imminent damage to machines and schedule demand-oriented maintenance to prevent major damage and costly downtimes.
Quick and easy integration thanks to wireless operation
With the completely wireless sensors and intuitive software for analysing and visualising the data, a comprehensive plant monitoring system is quickly set up without any extra work. While ensuring the highest level of data security, the sensor data is transmitted from the measurement point to the gateway.
The vibration sensor detects and transmits both the v-RMS value and the recorded temperature at the measurement point. Below is additional information on the data provided as well as on the transmission capabilities.
v-RMS (fatigue)
Effective value of the vibration velocity. Enables an assessment of component fatigue.
Temperature
A temperature increase can be caused by excessive friction or other effects (e.g. electrical causes) and is an indicator of existing or imminent defects.
Comfortable, intelligent connectivity
In addition to an Ethernet interface via cable, the ZB0929 Gateway also offers a variety of wireless connection options like NB-IoT, LTE CAT 1, Wi-Fi and 2G GSM. Up to 28 sensors can be connected to the Gateway and thus to the backend system indirectly or by using an intelligent mesh communication at the mere push of a button.
Evaluation
The sensor data can be visualised and analysed via ifm moneo or LR SmartObserver, moreover, alarms can be conveniently configured so that a quick set-up of the entire measuring chain is ensured. Appropriate ifm moneo licenses are mandatory for evaluating the sensor data.
Without external power supply
Thanks to the built-in battery, the sensor can be operated for at least 4 years. As the electronics is completely potted, unwanted resonance vibrations are excluded.