Central management and monitoring of global machine fleets
Central management and monitoring of global machine fleets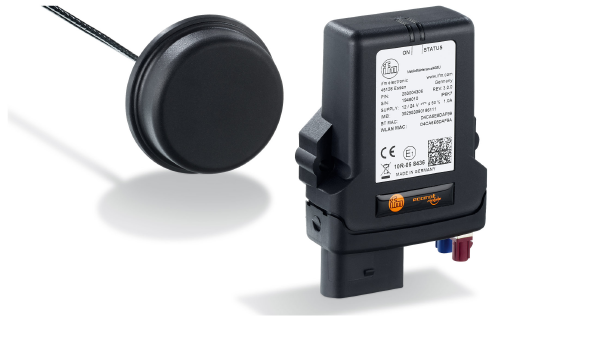 Direct connection from the control centre to the machine on site
Hardware and cloud solution matched to each other for easy implementation within a few minutes
Improved service logistics thanks to early diagnostics
Evaluate machine data and use it to optimise your fleet
ifm mobileIoT Suite –management and services
With the mobileIoT Suite, you can keep an eye on your machine fleet and its operating status. This helps you to react to maintenance requirements in good time. The system is suitable for fleet leasing companies and for OEMs who want to add value to their customer offer by providing highprecision maintenance after sales services. Adaptations to changing customer requirements, such as the configuration of a machine, can be implemented very quickly.
mobileIoT DataPortal
You can access all relevant information about your machines in the mobileIoT DataPortal. Generate reports and adapt your own dashboards or those of your customers. Analysis tools and historical data helps you to predict changes in the condition of your machines, plan maintenance measures in time and avoid expensive machine failure.
A global machine management requires hardware which transfers the data to the cloud:
CR3145 – mobileData
The device is connected to the CANbus. If the cloud functionality is activated, the information communicated via CANbus is transferred to the cloud by means of the CANmonitor mode.
Device specification:
3G modem (gsm / gprs / edge / umts / hsdpa)
internal cell & gnss antennas
gps / glonass (up to 56 channels)
CAN interface
gyro and accelerometer
IP 67
power supply: 6 to 32 V DC
CE, E1 and fcc marked
CR3150 – mobileMaintenance/3G
Similar to the CR3145, this device enables easy connection between machine and cloud. In addition, the CR3150 allows an OTA real-time connection to your CANbus or even directly to your control system.
The device specification is the same as for CR3145, in addition:
2nd CANbus interface
WLAN and Bluetooth interface with internal antennas
OTA real-time connection to the machine
firmware and software updates via WLAN/Bluetooth
CR3156 mobileMaintenance/4G/EU
CR3157 mobileMaintenance/4G/AM
The CR3156/7 uses next-generation radio technology, allowing connection of the machines to the 4G networks within the EU or America.
The device specification is the same as for CR3145, in addition:
4G modem (depending on the region)
external antennas for radio and GPS
bigger internal storage for machine updates
firmware and software updates via radio