Intelligent power supply directly in the field
Intelligent power supply directly in the field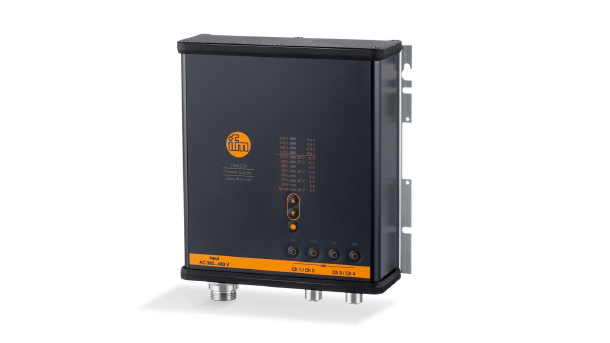 Field mounting reduces voltage losses due to long cable runs
No control cabinet required thanks to protection class IP67
Outputs protected by electronic fuses
Output voltage adjustable, current for each output can be set separately
Status and diagnostic LEDs
Power supply directly in the field
More and more users mount control components decentrally on the machine instead of in the control cabinet, for example IO-Link masters or other field modules. With classic power supply from the control cabinet, critical voltage drops occur due to the high currents through the long cables. To prevent this, ifm offers a powerful power supply for mounting directly in the field.
Protection in the secondary circuit
Integrated electronic fuses reliably protect the components connected to the 24 V power supply against excessive current and short circuits.
Further advantages and customer benefits
Adjustable outputs
The 24 V voltage of the output circuits can be set to a limited extent via buttons on the power supply. It can be slightly increased, for example, so that despite voltage drop on longer supply lines, exactly 24 V still arrives at the connected consumer. The user can also set the tripping current of the four electronic fuses. This provides maximum protection in the event of a short circuit or overload in the secondary circuit.
Operation and display
On the front panel, the power supply has three buttons for setting the current and voltage values. A row of different coloured LEDs also provides a quick overview of the status and allows rapid diagnosis in case of a fault. It shows the current load of the power supply unit or the individual output circuits from 0...200 %, set current and voltage values and which fuses have tripped. A fuse reset button is provided for each output circuit.
More reliability
Electronic fuses reliably detect short circuits even with high line resistances. Due to the four individually fused output circuits, a faulty circuit is selectively switched off, the intact circuits continue to function reliably. Even with high current peaks, such as when switching capacitive loads, the supply is guaranteed.