Efficient and precise consumption measurement for compressed air and industrial gases
Efficient and precise consumption measurement for compressed air and industrial gases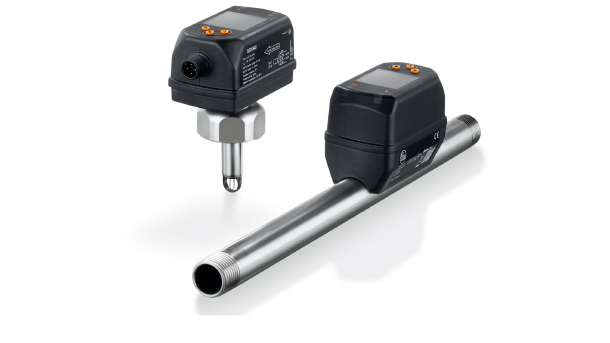 Four process values (volumetric flow, pressure, temperature, totaliser = total quantity meter) can be read for effective energy management
Exact allocation of energy costs due to precise consumption measurement
The basis for a comprehensive energy management system according to DIN EN ISO 50001
Pressure monitoring thanks to the integrated pressure sensor
Several process values being indicated simultaneously remove the need for multiple instruments
Simulation mode simplifies set-up and handling
Convenient: simultaneous recording of several process values
The SD series flow sensors detect the important industrial gases helium, argon, carbon dioxide, nitrogen and air. This makes them the ideal choice for bottling and packaging machines in the food industry as well as for welding, cutting or soldering processes in which protective gases are used. Besides the current flow rate, the sensors also detect temperature, pressure and the total volumetric flow quantity.
Integration of the SD into the maintenance unit of existing or new installations provides additional advantages: The process values of compressed air in industrial use can be effectively monitored in common compressed-air networks via the integrated TFT display, which allows for selection between four individually adjustable graphic layouts.
Added value thanks to IO-Link
IO-Link provides further useful features that simplify the handling of the sensors: In the simulation mode, customised display and switch point settings can be checked before set-up and by means of the flash mode, the user can quickly visually identify the sensor with the triggered output.
Assure quality, reduce costs
Thanks to the SD flow meter, the user can keep an eye on the precise consumption of expensive industrial gases. Very small quantities are detected as reliably as large flows. The high measuring accuracy ensures product and process quality wherever the precise dosing of gases is important. This allows for leakage detection, thus avoiding excessive consumption and higher costs. In addition, too low a supply of gas will compromise the final quality of the product.
Highest precision even with industrial gases
No matter which SD is used – maximum precision is always ensured. The SDX5XX, for example, enables exact allocation of the costs of compressed air to the respective production line as well as optimised product cost calculation. The SDX6XX 4-in-1 sensor with four integrated gas characteristics offers consumption measurement of argon, carbon dioxide, nitrogen and air as well as high measurement dynamics. For helium use the SDX8XX series. These units are specially adapted to the properties of helium. This ensures that even this very costly industrial gas is measured with maximum precision.
The basis for a comprehensive energy management system according to DIN EN ISO 50001
Following the EU directive on energy efficiency DIN EN ISO 50001, all member states have undertaken to achieve energy savings. The requirement for obtaining energy tax reductions is the implementation of an energy management system. The standard requires records on measurement equipment calibration to ensure correctness and repeatability of the measured data. Combining the new SD compressed air meter with regular DAkkS calibrations provides the optimum basis for a reliable energy management system.
Lower maintenance and installation costs
As all SD sensors also detect pressure, temperature and the total volumetric flow quantity of the medium, fewer additional sensors including wiring and input cards are required – this reduces installation and maintenance costs.